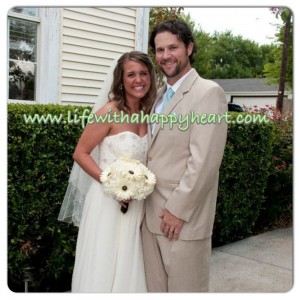 Everyone's got a great story about how they met. Some claim "love at first sight." That's not us. We met on a blind date…one that neither of us really agreed to. And what followed wasn't love, it was lust.
July 1st we celebrated our two year wedding anniversary. We have a daughter who is almost four. If you passed the 2nd grade, it doesn't take much to figure out that our daughter was born before we got married. The interesting part of our story is that we didn't continue dating (or even talking) while I was pregnant. And after our daughter was born, what followed was fighting, distrust, and lawyers.
I feel called to share our story of how my husband and I met, had a baby, fought dirty, and finally gave the situation to Christ. It's too long to write about (17 pages to be exact). But if you have 20 minutes, I'd like to invite you to follow the link below to our video testimony. We shared our story at a marriage program called Re-Engage this past April. (Just 3 months after Gideon was born).
I'm not proud of our past. Mostly because the way we handled things was immature, selfish, and wrong. What I am proud of is how we (finally) allowed God to take control of the situation. We put our trust in Him to work out the details that we so desperately wanted to control ourselves.
Much like the story of Jesus, ours is a story of redemption…a story of second chances…a story of forgiveness. I hope you'll find time to watch. It's because of our story that we can face anything united as one. We can face the future with all it's uncertainties and declare to the world, "We will not be shaken."
Statistics show that most marriages don't last when a child is terminal. I speak for both my husband and I when I say that we are not worried. The statistics have never been in our favor anyways. For example, my husband was married once before- Strike 1. Also we had a child before we were married- Strike 2. And finally, we lived together before we were married. Strike 3. We are not proud of (nor do we suggest) these things, we are just aware that each one of these events leads to a higher divorce rate.
All that being said, we are not blind to the fact that Satan prowls around looking to destroy us (1 Peter 5:8). That's why we choose to know Jesus. We don't just know about Jesus, we intimately know Him. Also we pray together. And not just at the dinner table. We pray together before we make big decisions, we pray together when one of us is troubled or hurting, we pray together just to thank God for what he's done for us… we pray together.
So here's our story. We hope you find it encouraging. We hope you find it helpful. But most of all, we hope you find the Author behind the story.
(This link may not pull up on your phone. You may have to watch it on your computer. Also, we spoke too softly, so turn your volume WAY up.)
Thanks for watching.