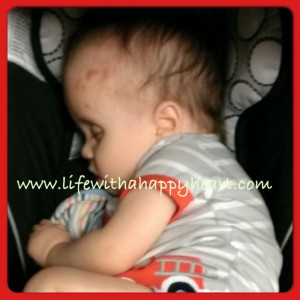 I cannot count the number of times I've had someone tell me, Don't beat yourself up!
Apparently I'm not alone. There are many "people-pleasing" folk out there like me who are way too hard on themselves…and really for no good reason. I wish I could say I have a mild tendency to beat myself up, but I'd be lying. I am my own worst critic about everything- self-image, child raising, cooking, writing… I could go on.
I always knew this was an area of my life that needed to be addressed, but it wasn't until recently that I realized how much damage was (and is) being done. And it took a photo of Gideon to finally get my attention.
I love photos of sleeping babies (especially my own), but the one above highlighted something about Gideon that breaks my heart as a parent- the physical damage he does when he hits himself. In fact, just a few hours before I took this photo, he was self-stemming (hitting himself), and I actually said to him "don't beat yourself up!"
As I looked at that photo and reminisced my own statement, I felt as if God was saying, "I feel the same way every time you beat yourself up." It became clear that Gideon's bruises were an outward reflection of my own inward beatings. Meaning the damage my son does to himself is visible; but over the years, I've done so much more invisible, self-damage with every harsh word and criticism.
Just like I don't want Gideon to hurt himself, God doesn't want us to hurt ourselves either. He created us in His image! Psalm 139 says that we were "knit together in our mother's womb" and therefore we are "fearfully and wonderfully made." Zephaniah 3:17 says he "delights in us… and rejoices over us with singing."
Honestly, I'm not sure how we can stop Gideon from hurting himself. I can't hold his hands down 24 hours a day, 7 days a week. But I do know that, for myself, I can stop any further damage. I can replace Satan's lies with God's truth (Zeph 3:17 and Psalm 139 are great places to start!) I can re-read great resources like Lies Women Believe. I can seek guidance and prayer from some great accountability partners.
It's simple, really. For those of us who don't have a genetic disorder, it comes down to a choice. We can choose to believe what Satan thinks about us or we can choose to believe what God and His Word SAYS about us.
I think it's important to also mention that little eyes are watching and little ears are listening. Our children know how we feel about ourselves. And studies show that our self image can spill over onto them. That concerns me for my 4 year old daughter.
It's for that reason that I hope and pray that no one will ever again have to tell me, don't beat yourself up!