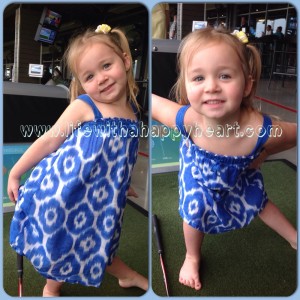 I can talk with anyone about my son's genetic disorder. Answering the hard questions about his life and what we will be facing in the future has almost become second nature. I throw around big medical terminology and speak about his shortened life with minimal emotion and almost no tears. It's almost as if I'm telling someone else's story.
It's easy now to answer the hard questions… Except when those questions come from our 4-year-old daughter.
I'm not sure what it is exactly…but for some reason, I can't always put on my poker face. I feel the need to be more real and more honest about Gideon with her, than anyone else.
Laynie's question tonight: When will Gideon walk? 
If you've met my daughter, then you know that there's no beating around the bush…if she asks a question, she expects a (logical) answer… When?
As my eyes locked with Kevin's, I paused before giving her my honest answer- "I'm not sure that he will…but if he does walk, we've been told it will be around age 3 for him." As the confusion settled in on her face, Kevin added, "Do you understand what that means if Gideon does not ever walk? That means he'll use a wheelchair, like Aunt Traci."
Laynie replied with a sense of urgency, "Oh I really hope he walks!!!" After we assured her we were hoping for the same, she said- "Let's pray that God will let him walk!!"
After she led us in prayer, she was back to her shenanigans as usual. She was cutting up and taking photos of her daddy holding her toys. (He's gonna kill me for posting this photo!)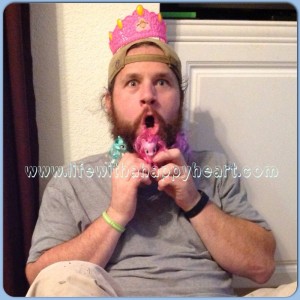 But I didn't bounce back to the routine as quickly. My mind lingered in the future…that place I don't often visit. I dread the thought that my son's life will be so difficult. I selfishly long for the normal future where diaper changing ends and back talking begins. I want my little boy to experience the sights and sounds of all that God has created here on earth. But we don't get to choose our circumstances.
I've asked God some hard questions myself over the past year and a half and I must admit that I don't always like the answer…sometimes I don't even get an answer. Maybe you've experienced this as well.
When I tucked Laynie in bed tonight, she asked me one more hard question. She asked if she had the genetic disorder like her brother. With my poker face back on, I told her no. I don't think a 4 year old (even my 4 year old) could possibly understand that she might be a carrier of the mutated gene.
Just like I don't want her to worry about the future, I'm consistently convicted that God doesn't want us to either. Maybe you're like my Laynie and with a pure heart, you've got some real hard questions and you want them answered.
Whether God answers fully or not all…I've learned this: He doesn't want us to live in fear of what could happen. He wants you and me to trust that He will redeem whatever does happen. We can't change anything by living in fear. Who of you by worrying can add a single hour to his life? (Luke 12:25).
I like Matthew 10:29-31, "Are not two sparrows sold for a penny? Yet not one of them will fall to the ground outside your Father's care.  And even the very hairs of your head are all numbered. So don't be afraid; you are worth more than many sparrows."
I love that Laynie can come to me with her questions. I think as parents we all want our children to feel like they can ask us anything…even the hard questions!! Answering honestly is important, but we have to take in account their maturity when we answer.
So why wouldn't we expect God to do the same with us?