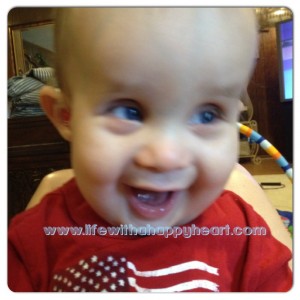 With all the recent graduation festivities, I thought this news couldn't have come at a more appropriate time.
Some of you may know that Gideon was placed on hospice care after his diagnosis back in August 2013. Because of this, we've been blessed to have four Hospice employees visit us at varying times each month-a caseworker, a Chaplin, a nurse, & a house cleaner.
Yesterday we got our final visit from Gideon's case worker and Chaplin; and today we sign paper work with his nurse dismissing us from the hospice program. And even though today is officially his graduation, they've been so gracious to let our amazing house cleaner come one last time this Friday!!
So what does this mean (other than my house will now be a wreck)?
Despite his terminal diagnosis, Gideon is not considered "sick enough" to require hospice care at this time- which is great news!! However when his disease begins to progress (hopefully not for many years), hospice will return to continue services for our little warrior.
Thanks for all your prayers and support throughout our journey. It's been a roller coaster and I imagine it will continue to be that way for as long as God has loaned sweet Gideon to us.