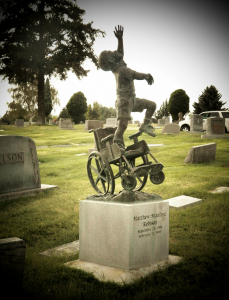 I saw this headstone years ago before I had children. It had a pretty big impact on me since my sister was (and still is) confined to a wheelchair. But seeing it again this morning… it had a more profound effect on me.
Seeing it through mommy-eyes this time, I found myself dwelling on "that day." I thought about the sadness we would feel when our little boy is called Home, but I also couldn't help but think about the freedom that he would experience.  I imagine it takes place just like that photo…children instantly free from that which confines them..

I wrote the poem below as an outward expression of my inner most feelings after looking at this photo throughout much of today. I simply call it Free.

As heartbreaking & tragic as it will be,
One day our son too will truly be free. 

That day will be dark & dreary for us,
But Gideon's eyes will open & he'll see Jesus. 

His ears will clearly hear that great Heavenly sound.
As the shackles of his disease fall to the ground. 

His body will be strong and he will run & play.
I can only imagine that he'll have so much to say. 

He won't be sad about leaving this world behind. 
Who would trade Heaven to be deaf, mute and blind?

On that day our sorrow will truly be Heaven's joy;
As they all welcome a warrior- our precious, sweet boy.

But today's not that day- we rejoice that he's still here. 
And until that day comes, we don't have to live in fear. 

There's a peace we can have knowing that tragedies will come. 
His name is Jesus. And He is God's resurrected Son. 

He died once for all; to forgive us of our sins. 
And knowing Him personally is where our freedom begins. 

So on that day, when we bury our son,
We can rest in Him, because the battle is won. 

The disease will be defeated and our son will be free. 
And Christ will carry us forward until we meet in eternity. 
**********************************************************
Here's the link if you'd like to know more about little Matthew- whose physical body rests beneath that statue. God has truly done (and continues to do) beautiful things with his precious, short life.
No matter what you're facing, he can do beautiful things with your circumstances as well.