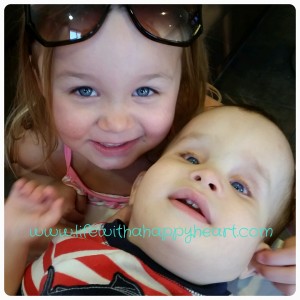 One year ago today, I published my first blog. My son was newly diagnosed with a terminal genetic disorder (PBD) and I was devastated. A wise friend encouraged me to blog; she said it would be therapeutic for me and it would put me in touch with others who were experiencing similar circumstances. 

I had never been a blog reader, so I didn't know the first thing about the process. After watching some how-to YouTube videos, I took the plunge. 

I was astonished after publishing my first post. I didn't realize the effect that our story would have on so many people. Social media was good to me and my post got shared so much that within 48 hours I was contacted by Shannon Butalla, the president of the Global Foundation for Peroxisomal Disorders. Her son also has PBD, and his therapist shared my story with her via Facebook. God heard my cry for clarity. I learned more about my son from her in 60 minutes than I had learned from all the specialists we visited over a 6 month period. Not only that, but the out pour of love I received ever since that first post has been nothing short of incredible.
My friend was right, the encouragement came from all over the world. I felt loved and supported in our crappy situation. But what I didn't expect was that over time, my family's journey would in turn, help others… And not just our circumstances alone, but the way we chose to respond to those circumstances.
Looking back over the past year of blogging, I can tell you with confidence that it is important to share your story. And truthfully, it doesn't really matter how you do it- blog, social media, face to face, etc. I think we often times buy into the lie that our story isn't a good one, or that it doesn't matter… But the truth is, it is good and it does matter! And if we are willing, there is always an opportunity for us to be transparent.
I do not know the particulars of your circumstances, but I do know this- SOMEONE is going through a similar situation as you. SOMEONE will benefit from your transparency. SOMEONE desperately needs to know they are not the only one struggling with _____________.  And chances are, you are the person who can encourage them the most, because you've been where they are now.
I've been so blessed by sharing my son's journey. I talk about Gideon with anyone who is willing to listen. I began doing it because I wanted his life to matter to others. My original thought was, If he won't ever get the chance to tell this world who he is, then I will!! That's why I started to share our journey. But through this process, God has taken it far beyond my selfish and small intentions.
Sharing my son's story has allowed me to point others to His Son's story.
And He can do that with your story.
You just have to be willing to share it.