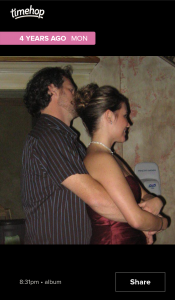 I absolutely love the Timehop app. Let me go ahead and confess, I obsess about the stupid thing way too much. But it's so cool to be able to look back and see what was going on in my life years ago.*
So when I opened the app the other morning, the photo above popped up.
I was overcome with emotion. Looking at this photo, I was reminded of what God brought us through.** If I had to caption this photo in one word it would be reconciliation. The definition of reconciliation is to bring into agreement or harmony; the process of making compatible or consistent.
To give you a little more background, I was a bridesmaid in my cousin's wedding and the newlyweds had just begun their first dance. I was standing alone watching the beautiful moment unfold when I felt two arms embrace me from behind. My heart pounded, my palms began to sweat and I thought for sure my knees would buckle. Kevin and I had been successfully co-parenting for a few months,and the moment captured here (unknown to us at the time), was the first time he had shown me any kind of public affection.
But after all the pain we had put each other through…was there still hope that we could truly be reconciled?
2 Corinthians 5:18-21 says,
All this is from God, who through Christ reconciled us to himself and gave us the ministry of reconciliation; that is, in Christ God was reconciling the world to himself, not counting their trespasses against them, and entrusting to us the message of reconciliation.Therefore, we are ambassadors for Christ, God making his appeal through us. We implore you on behalf of Christ, be reconciled to God. For our sake he made him to be sin who knew no sin, so that in him we might become the righteousness of God.
I love this passage because it's a reminder that God reconciled us to himself in spite of our transgressions…past, present, and future!! That got me thinking… If we can be reconciled to God after every horrible thing we've done, how much more can our relationships here be reconciled?***
But just like the person who thinks their sin is too big to be forgiven, the thought of reconciling our relationship seemed impossible. After all, Kevin and I were different people now. We had been through too much. The statistics were not in our favor. Impossible pretty much sums up any chance we had of reconciling. But in the words of Christine Caine, impossible is where God starts. And He's always been in the business of reconciliation.
———————————————————————————————–
*For those of you who've never heard of Timehop, the app connects to your social media and shows you what you posted 1 year ago that day…2 years ago that day…3 years ago that day…you get the idea. It's like a online journal for the lazy…ahem, I mean busy.
**If you don't know our story, see the link on my About Me page.
***I am in no way suggesting that every relationship should be reconciled. If you've been abused physically, sexually, or verbally, God does not call us to stay or go back to those relationships. If you're a victim of abuse, please call the National Domestic Violence hotline at 1-800-799-7233.