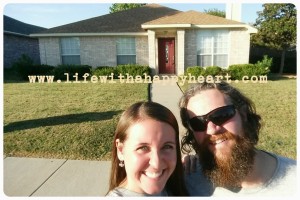 Have you ever heard of an old hymn called Great is Thy Faithfulness? If your were raised Baptist you probably do…
Great is Thy faithfulness!
Great is Thy faithfulness!
Morning by morning new mercies I see
All I have needed Thy hand hath provided
Great is Thy faithfulness, Lord unto me!
I never appreciated this hymn mostly because there was always someone who sang it off-key in the church pew behind me when I was a kid. Nevertheless, I've come to realize just how great His faithfulness truly is (and has been) in my life.
About a year ago, I told my husband that I felt like the Lord was calling us to sell our house and pay off our remaining debt. He laughed at me and somewhat flippantly said, "Yeah, I'll pray about that." So I didn't push the issue (too much) after that.
By the time summer came around, God had softened Kevin's heart to the idea of selling. But since we were busy with Joni & Friends family camp and the GFPD conference, we just didn't have time.  However in August we started giving away and selling some of our belongings. In September we put our house on the market and within two days of back to back showings, we received 5 offers. Three of those offers were more than we could have hoped for.
In the process of selling, we found a non-traditional apartment that would only cost us $550/month, all bills paid. In essence, we hit the renters jackpot. (Unfortunately we won't be able to move in until after the first of the year; so for now my brother-in-law is putting up with us.) I just love how God provides.
But that's not even the coolest part of what God has been doing these past few months. After we sold our house, I came to appreciate even more the part of the hymn that says, "All I have needed Thy hand hath provided." Here's why..
Around the same time I first felt the Lord calling us to sell, we were in the process of ordering Gideon's wheelchair. I knew it was going to be a tight fit in my jeep compass, but my vehicle was paid off. We certainly couldn't make payments on something bigger because we are a one income family. I remember sarcastically telling God, "I'm gonna need you to figure out our vehicle situation!" God must have shook his head and laughed. Looking back now, He saw that need long before we did and He went above and beyond our need when this gift was dropped  into our laps….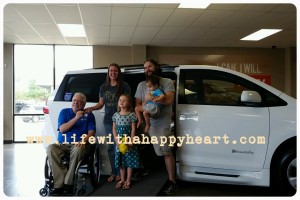 That is a 2015 Toyota Sienna, BraunAbility  wheelchair accessible van. Who gave it to us you ask?? If you find out, please let us know!!  Apparently there is a family out there that chooses to anonymously bless others in extravagant ways. Someone pointed them towards my blog and the family's liaison reached out to me to let me know that we had been chosen to be the recipients of this amazing free gift. Even after a month of driving the van, it still doesn't seem real.
It would take a book to write down all the ways God has continually provided for my family.  He has been faithful, time and time again. We are beyond excited about this new chapter that is unfolding. We don't know where we will be in the next year or so, but that's the fun part. We have learned throughout our marriage that we don't have to worry about the details. We are committed to praying about our needs and letting God work out the details. Afterall, all we have needed His hand hath provided.
Great is Thy Faithfulness!!
Ephesians 3:20 "Now all glory to God, who is able, through his mighty power at work within us, to accomplish infinitely more than we might ask or think."