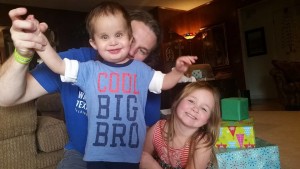 Last November I came down with a cough that would not go away. After two weeks of consistent hacking, I decided to go to the doctor to get some meds. While the nurse was examining me, she asked, "Before we prescribe you anything, is it possible that you could be pregnant?" I replied, "Well, I'm happily married and we don't use contraceptives, so there's always a chance."  After looking at my calendar I told her that I was one day late, but that isn't unusual for me.
And with that, she sent me away to pee in a cup.
So on that Tuesday, November 17, 2015, I found out that I had a virus and that we are expecting. I was extremely excited yet surprised. Two years ago, my husband and I decided that we were not done having kids, so we have not been preventing pregnancy for quite some time. I think a small part of me thought that I might not be able to get pregnant again since so much time had passed.
I wanted to find some fun way to tell Kevin, but we had ReEngage that evening so I decided to wait for a day. Unfortunately, one day quickly turned into three days. Because we had something going on every evening, there was never a good time to tell him. By Friday morning I couldn't wait any longer, and decided to tell him before he left for work.
I told him to sit down because I needed to call a home team moment. I should probably mention that "home team" is our code for "I'm about to tell you something that may be shocking to hear. Please don't get defensive and remember that I love you and we are on the same team."  Pregnancy is not a situation that I would typically call a home team moment for, but I wanted to make sure I had Kevin's full attention.
As I pulled my pregnancy test strip from a bio-hazard plastic bag , Kevin's face relaxed and he seemed relieved. "Oh, you're just pregnant?!" he said. We laugh now because apparently the bio-hazard bag (which the doctor had given me to save my test strip) sent the wrong initial message.
So we are excited to announce that we are having a baby boy and he is due July 20th! (Probably a bit later since my kids are typically in no hurry to be born). While we are not sure on a middle name just yet, we have decided that his first name will be Josiah, which means God supports, God heals.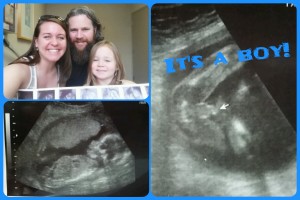 If you are familiar with our story, then you probably have a few questions. So let me write a bit more and see if I can answer them. Since my husband and I both carry a recessive gene for what is called Peroxisomal Biogenesis Disorder, that means that this baby boy does have a 25% chance of being born with PBD, just like his big brother Gideon. But that also means that Josiah has a 75% chance of not being affected, like his big sister Laynie. In light of those odds, we decided not to do any prenatal testing to determine whether or not Josiah is affected. For us, that information would not change our decision to bring him into this world, so we opted out of any testing.
Since then some people have told us we are crazy. Some have lovingly told us we are wrong. Apparently there are many who can't understand why we would "take such a risk." The truth is, our perspective is just different and we don't expect everyone to understand or share our perspective. We truly hope and pray that Josiah is born healthy and free of PBD; however, we believe that God's grace is sufficient no matter the outcome.
But he said to me, "My grace is sufficient for you, my power is made perfect in weakness." Therefore, I will boast all the more gladly about my weakness, so that Christ's power may rest on me.    2 Corinthians 12:9
Looking back over the past three years, we have met some of the most amazing people and have been blessed in ways that we never could have imagined, all because of Gideon's PBD diagnosis. Kevin and I have seen God do impossible things through our little boy's life, and we believe that our lives are better, not worse, because of our mighty warrior and his struggles.
Being a mother to a child with special needs has been extremely challenging yet extremely rewarding. And no matter what happens regarding Josiah's health, God is faithful and will continue to carry my family through every high and every low.
So stay tuned… our family's journey will be interesting to say the least.