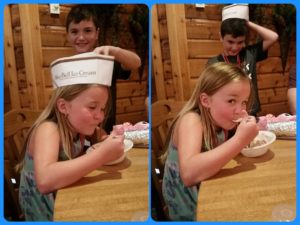 Laynie and Owen
One of my favorite stories from camp involved our daughter and this sweet boy Owen. On our first night there, we were having blue bell after the welcome ceremony and a little boy we had never met approached our table. When he walked up he paused looking at Laynie and then turned to speak directly to Kevin. The pause was long enough to be awkward so we weren't sure what was about to unfold.
This is how the conversation went between Owen and Kevin:
Owen: Hi, I'm Owen, what's your name?
Kevin: It's nice to meet you Owen. My name is Kevin.
Owen (smiling): Kevin, is this your daughter? (pointing to Laynie)
Kevin: Why yes it is Owen. Her name is Laynie.
Owen: She's really cute! (Now he and Laynie are smiling and giggling.. Kevin not so much)
Kevin: Owen, how old are you?
Owen: I'm nine, sir!
Kevin (shaking his head): Owen, I think you're a little too old for my daughter.
Owen, who never stopped smiling, gave Laynie his blue bell hat to which she replied with a giggle and then threw it back at him. Kevin was pretty pleased with that response. After that Owen told Laynie he'd be seeing her later and went back to his table…laughing the whole way.
Had I known this conversation was going in that direction, I would have recorded the whole thing! Kevin was completely unprepared (as were the rest of us) for this interaction and the whole thing was just priceless. Especially since Kevin always says that Laynie won't be dating until she's 35 years old.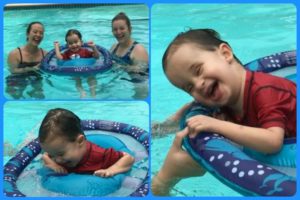 Gideon and his STMs
Another one of my favorite stories from camp is how God uniquely places specific people in our lives. There were more STMs (short term missionaries) at this camp than there were last year. And any one of them could have been assigned to my son. But by the grace of God and much prayer by the Joni and Friends staff, Gideon got assigned two STMs and they were both physical therapy students from Hardin-Simmons University. It could not have been a more perfect match!!
Caitlyn and Taylor were so good with Gideon. If there was an activity that Gideon couldn't participate in (like making crafts) they just took him to the pool. When he needed a nap, they rocked him and they even became experts when it came to feeding him… which is NO easy task! I know those precious girls were initially nervous to care for/entertain Gideon, but they did such a great job. They even did some PT with him. 🙂 Kevin and I felt completely comfortable leaving him in their care.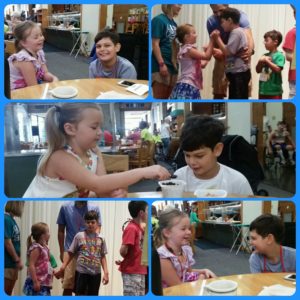 Issac
So another one of my favorite stories from camp is about Laynie and Issac. Isaac has what they call CBLC, or Cobalamin C deficiency. This means his body can't process the vitamin B12 which feeds the nervous system. He needs B12 shots daily to survive. It's a genetic disease and it affects all kids differently. Some are completely blind, some are very mentally challenged, some have seizures..
We met Issac and his precious family last year at camp and it turned out that we lived only a few miles from one another. Small world! Anyways, last year, Laynie was very hesitant around Issac. Sometimes he can be aggressive and there were times when I could tell Laynie was not sure what to expect. However, after knowing this family for a year, I watched the beauty of this friendship unfold while at camp. I noticed Laynie was wanting to be around Issac more and help him with different things (not that he needs her help though…he can do quite a bit himself). She loves to play his games and entertain him.
Watching these two just reaffirmed what I already know to be true. God doesn't waste any of our circumstances. Anything that seems sad, tragic or horrible to us, God can still bring beauty from it.
I don't know what Laynie will be when she grows up someday, but I do know this- because of her brother Gideon, and her friends like Issac, she will have an empathy for others that some adults might never achieve.
May we all learn to love like our kids… unconditionally.