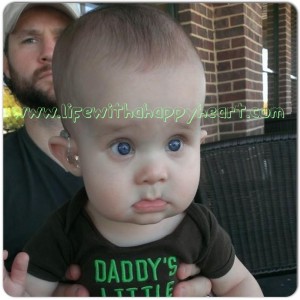 We all take things for granted from time to time. Some days are worse than others. But I can honestly say, before Gideon, I had never given a second thought about my ability to see.
I have worried for some time now that my little man was mostly blind. Several of his behaviors and a  young Optometrist (who "understood") suggested so; but despite that, I was holding out hope until we went to our regular Ophthalmologist.  Last Thursday was that appointment. And the eye test itself, went surprisingly well. Gideon tested both eyes together and even individually- using an eye patch!! Go figure! I thought for sure we would be leaving that office with two kids in tears (I took Laynie too).
Turns out I was the only kid in tears when we left.
I love our Ophthalmologist… His chair-side-manner is great! He is one of a handful of doctors that gets teary-eyed when talking about Gideon's condition. After looking at Gideon's test results, he concluded that he has cortical visual impairment, or CVI. Unfortunately, this form of impairment is caused by a brain problem rather than an eye problem. Given his genetic disorder, I was not surprised.
Another reason I love Dr. Shidlofsky (say that three times fast) is because of how he explains things. He always finds a way to "dumb it down" for me. Thursday he told me that CVI is like having "Swiss cheese vision." Gideon may pick up pockets of vision from time to time, but he probably won't be able to make out what he sees. Sadly his test results suggest the visual parts of his brain did not peak very often and when they did, they were low. Needless to say, I've done some crying since Thursday.
I've been putting off writing about this because my heart is heavy….and because frankly, I'm down right mad. In a weird way, I feel like I've been blinded. I've been struggling to see the positive side of all this and like most people in my situation would, I find myself going through stages where I am angry…so angry, I can't shut off the tears. I feel like I'm in a fog and I can't see two feet in front of me. I know others have been blessed by our journey, but most days I don't feel blessed by this. Like many before me, I keep asking God why has this been allowed to happen to us?
A couple of days ago, I re-read the story of how Jesus healed a blind man. In the past, I had not paid much attention to the verses before the healing…
John 9: 1-3, says As He went along, He saw a man blind from birth. His disciples asked him, "Rabbi, who sinned, this man or his parents, that he was born blind?" "Neither this man nor his parents sinned," said Jesus, "but this happened so that the works of God might be displayed in him."
Let me just clarify, while that verse speaks volumes as to the "why" we are going through this, I still don't like it. I hope my honesty doesn't offend anyone. Don't get me wrong, I'm still confident God knows best, but at the end of another weary day, I Still. Don't. Like. It!
Am I the only one who struggles with this?? Has God allowed something to come into your life that's blinded you, but at it's core you know it will bless you and/or others? Have you thrown your hands up like me and said, "Please God, bless someone else!"
God being glorified is the why to all this. But I'm completely blind as to what God has in mind for the bigger picture. I know one day (maybe not this side of Heaven) our eyes will be open to the magnitude of all this. We will be able to see what God was doing all along. But for now….today….I'm blind…and sad.
I find it interesting that God allowed Gideon to have 'light perception.' No matter where we are, Gideon always turns his eyes up towards the light. Watching him do that today reminded me of Psalm 121:1. "I lift up my eyes to the mountains- where does my help come from? My help comes from the Lord, the Maker of heaven and earth."
Maybe that's one of Gideon's purposes in life…to remind me, and maybe you, to turn our eyes up…towards what we can see, The Light.