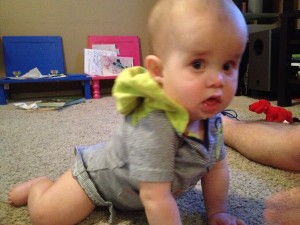 So last night Laynie decided that she and Gideon needed to go visit their cousins, Addison & Dawson. While we were there Gideon decided to do more big boy stuff!
I hope you will watch this VIDEO of my little man holding himself up.
Pretty awesome, huh?!
Go ahead and watch it again…I'll wait.
Now granted, he did not get into that position by himself, but just the fact that he could hold his weight like that (and his head) is HUGE!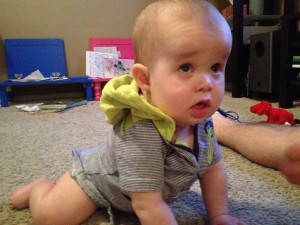 I love these shining moments and as cheesy as it may sound, I love how at the end of this video his daddy's hands are right there to guide him to a safe landing. Isn't that how we all are with our babies? We are right there to catch them quick if they fall (unless they're sitting on the bed…lol).
There's a story that comes to mind about catching our kiddos and my husband will probably kill me for telling it…but I'm going to tell it anyways. So for those of you who may not know, my husband cheered in college…and I don't mean from the stands. He was a cheerleader and many people know it takes a lot of talent to throw/hold those girls in the air. But because of that, my husband is always bragging; saying things like "Did you see those hands???" when he catches something quick.
That being said, he was completely shocked and shaken when the day finally came where he missed…big.
One fall afternoon Laynie (she was about 2 at the time) was playing on this high platform at the playground. Kevin had stepped on the first step of the latter so he was just high enough to be eye-level with her feet.  She squatted down to kiss her daddy and to everyone's surprise, she jumped!!… over Kevin's head, and landed flat on her back. Now let me just clarify, Kevin did a back bend off that latter trying to catch her, which was an impressive attempt…but unfortunately, he missed.
This was totally out of character for her! She knew not to jump until daddy said "ready" but they weren't even playing "catch me." Of course that would be the day we walked to the park (with no stroller by the way…Laynie's big girl idea). So the entire mile home Kevin carried her. I think he was in shock as much as she was. The only words he said to me on the way home were, "Daddy never misses."
But unfortunately, they do. Mommy's miss too. And you know what? That's okay.
There's only one Father who never misses. He holds us in the palm of his hand. In the video of Gideon holding himself up, you can see daddy's hands are ready to catch him. But what's interesting is that our Father's hands don't have to be ready, because we're already in them. Is that as comforting to you as it is to me? Think about it. We never have to ask the Lord to be ready to catch us, because He's already holding us.
We've already been caught.
I love seeing Gideon hold himself up. These brief moments of success totally make my day, and this one could not have come at a better time. It's a reminder to me, that God's not done with my little man yet. And I have a feeling there will be several more instances where Gideon is going to need us to be ready to catch him…when he crawls…when he walks. I can't wait to be there for those moments.
In the meantime we'll keep celebrating every ounce of progress- catching him all along the way.
Thanks for celebrating with us.