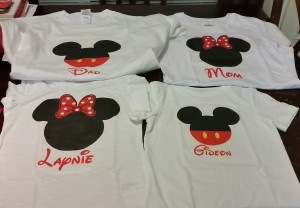 Well, it looks like this is actually happening. The Jolicoeurs are going to Disney World!!  I haven't told many people about this trip….in fact we didn't even tell our 5 year old we were going until this afternoon. (And unfortunately we didn't get the reaction we were hoping for…womp womp.)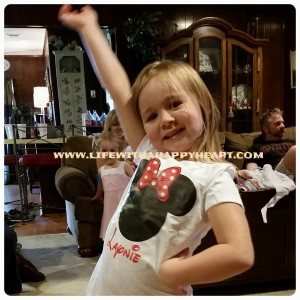 A little over a month ago I was approached by a dear friend who offered us their condo for a week in Orlando. I felt like I had just won the lottery… but we didn't say yes right away. We were hesitant for several reasons. First- traveling with Gideon requires a lot. Second- even though our room cost was covered, we didn't want to eat up our humble savings on airfare and park tickets.
After talking about it for a couple of weeks we decided to put off some projects around our house and use that money to make the trip. A few days later we were surprised when a completely different family came forward and offered us a gift that covered the cost of our airfare.
So needless to say, Disney here we come!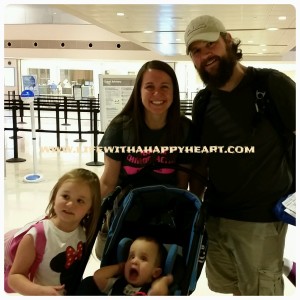 We are so excited to take this trip. This will be Gideon's first time on a plane and Laynie's second. So we welcome & appreciate your prayers. 😉
Currently our 4:45 pm departure was delayed until 6:55 pm. But then the weather further pushed back our depature until 8:05 pm. We are praying for clear skies and no more delays. We have been here at the airport since 2:30 pm and Laynie has been more impatient than her 2 year old brother. Go figure. Lol.
I'd like to publicly thank these two families for their generosity and thoughtfulness. You have blessed us tremendously and we are forever grateful.
Look for photos on our Life With a Happy Heart Facebook page throughout the week!!
Disney here we come!
(Shout out to Mrs. Hoppe for getting us those fabulous, matching t-shirts!!)