This past Summer we attended an event put on by RISE Adaptive Sports. There we met some of the most amazing people and families. One of those was the Rose family.
Brian and Heather Rose have two children and their youngest Abel, has spina bifida. To say their sweet boy is an inspiration would be a huge understatement. You can't help but be drawn in by his beautiful eyes and strong spirit. One look at him and you'll forever question any doubt or complaint you've ever had about your own life or abilities.
We have been so encouraged by Abel and all that he's accomplished in just 3 years of life. While Gideon's diagnosis is completely different from Abel's, the Rose family has reached out and loved us as if we were part of their family. They took it upon themselves to make Gideon a homemade wheelchair, just like the one they made for their own son. Talk about raw talent!!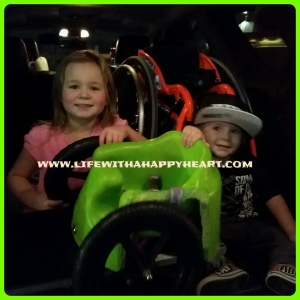 We met up with the Rose family last night and they presented us with Gideon's homemade wheelchair, pictured above. Unfortunately Gideon was passed out  tired and we weren't able to get him in the photo. Upon arriving home, Gideon was wide awake and so we decided to put him in his new chair.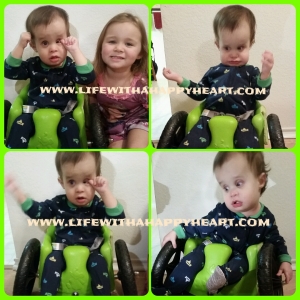 At first he seemed pretty content (he has a regular bumbo seat that he's familiar with). But because it was so late, we were only able to work with Gideon for about 15 minutes before he had had enough. If you go to my Facebook Page you can watch a video from his first time in the chair. He only manipulated the wheels for a few seconds, but it was really heartwarming to watch.
We absolutely love the Rose family and are so grateful that Brian took the time to fashion this chair for our little man. It turns on a dime and I would put it up against anything the medical companies manufacture.
It just goes to show you that there are amazing people in our world willing to do so much for others. We are blessed to know so many of them, including Abel and his family.
If you'd like to know more about the Rose family and what sport Abel is doing this month, you can follow them on Facebook. Also, if you have an athlete with a disability, check out the Challenged Athletes Foundation.