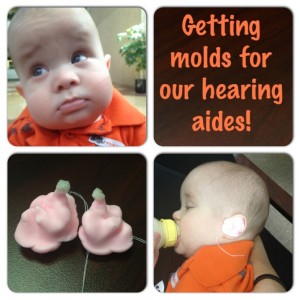 Isn't it amazing how one day can turn around the bad week you've been having? Today was that day for me! Well, let me back up. It actually started last night when my husband and I began reading & responding to the encouraging comments that were left by those who read my first and second blogs… And let me just say, THANK YOU!
As we sobbed our way through each comment, my heart was overwhelmed and overjoyed! We praised God for all the ways he allowed Gideon's story to touch so many lives in just one day! We were up so late (1:30 am is late when you have kids) &  I'm not sure what was so funny but I haven't laughed with my husband like that in a long time. So let me say it again, THANK YOU & GOD BLESS YOU!!! We were so encouraged.
So today was great because I met some incredible people that I would never have known without Gideon's diagnosis. First we went to the audiologist to get molds for Gideon's hearing aides. And let me just tell you, if you ever need an audiologist, Dr. King is THE best! Her heart is bigger than Texas and she's beautiful enough to be Mrs. Texas! She did Gideon's molds and he was such a good patient. The coolest part about our visit with her is that she already knew who Gideon was because someone had sent her my blog post on Monday. Small world?? Maybe… God meant for that to happen? I think so.
The other person I spoke with (who also found me through my blog) was the President of the Global Foundation for Peroxisomal Disorders (or GFPD). And here's crazy part #1- Her son has the same genetic mutation as Gideon! And crazy part #2- Her son is 11 years old! After talking for quite sometime & looking at Gideon's lab report and photos, she believes that Gideon's disorder falls closer to the Neonatal ALD rather than Zellwegers. And would you like to hear even more good news?? Gideon qualifies for an experimental study in Omaha!
As I was driving home this evening, I was thinking about how great it was to have all these new people to support us & walk with us in our journey! It started by simply sharing our story, and from there new doors have opened up and new relationships are being built. There's only one thing that troubles me…
I can't help but wonder how many opportunities I've missed out on in the past, because I haven't been willing to share my story. How many people did I miss helping because my focus was on myself? How many people needed to hear words of encouragement but I was just  too busy? How many people were looking for forgiveness when all along I knew the Savior?
Is there a story you could be sharing? Is there someone you need to reach out to? Do you have some life experience & knowledge that others could benefit from? What's holding you back? Fear of rejection? A past that haunts you? 
Today is a great day to share your story. Today is great day to reach out to someone in need. Today is great day to forgive. Today is a great day to accept Jesus as your Savior.
Today is a great day because we choose to see the good in it.