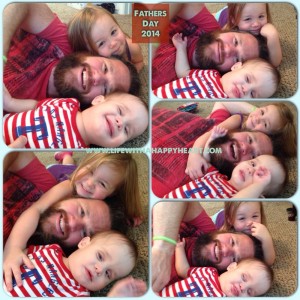 Being a father is the most important and toughest job in the world. Father's are called to show unconditional love and discipline. They're called to be patient and forgiving. They're called to provide and protect. They're called to be moral and compassionate. And because they're called to be selfless, they must die to themselves daily.
I've watched the two most important men in my life answer the call to display these qualities- my father and my husband. Sometimes I laugh at just how much they have in common. With the exception of height and bell peppers, I pretty much married my father. But there's one commonality they share, that makes them stand out from the majority of fathers- they're both dads to a child with a disability.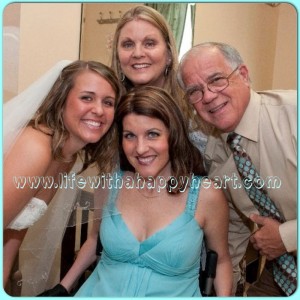 For the past 17 years, I've watched my father come alongside my mother to take care of my sister's most personal needs. He has never been hesitant to help her dress or go to the bathroom. When most men bail on their families because the disability is too much, my dad chose to stay. While most retired men are playing golf and traveling, my dad is laying hard wood floors in my sister's house.
I do not take for granted how lucky I am to have a fiercely loyal dad, because I know they are few and far between these days. And I rejoice daily because God has blessed me with a husband who is just as loyal to meet the needs of his family.
When Gideon was diagnosed, Kevin (and I) grieved the death of a dream. He was not going to have the typical father-son relationship he planned. But that hasn't stopped him from being the best dad he can be for Gideon and for Laynie.
Kevin starts his day and ends his day helping me with the children. I never have to ask him to help or play with kids. Five minutes after walking in from work, Laynie already has bows in his hair and a doll in his lap. I'm confident that Gideon spends more time in his father's arms than he does mine… and I'm at home with him all day! Kevin has always been a present, hands on dad; and to say I'm grateful would be an understatement.
So to my dad and to my husband, I want to say Happy Father's Day. I celebrate you, not just today, but every day. Thank you for unconditionally loving & disciplining your kids. Thank you for your patience and your forgiveness. Thank you for all the ways you provide and protect. Thank you for being compassionate men with good morals. Thank you for being selfless.
It's all these qualities that you've displayed that help show your kids the heart of THE Father.
John 15:12 "This is my commandment, that you love one another as I have loved you."
Proverbs 22:6 Train up a child in the way he should go; even when he is old he will not depart from it.