A few months back I received an email from a Joni & Friends employee who wanted to connect me with Lisa Wong, a teacher at Trinity Christian Academy. Mrs. Wong was looking for a family that could benefit from collaborating with her high school engineering class for their final project.
The students, who are seniors, were assigned the task of designing products that would meet the needs of someone in the community. Mrs. Wong didn't know it when she reached out, but Kevin and I had already been talking about modifying something for our son.
Gideon loves to jump in his bouncer, but at 4 years old, he was too big for it. We had replaced the springs to adjust for his weight, and held down the base with dumbbells. Needless to say, it was not very safe, but it brought our little guy so much joy to jump. So when Mrs. Wong asked if there was something her seniors could design for Gideon, it was a no-brainer.
The students came over a couple of months ago to meet Gideon, assess his needs and brainstorm.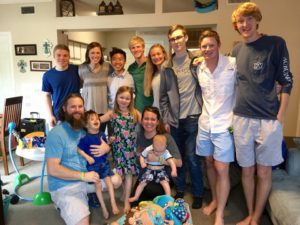 Since Mrs. Wong had two teams of students, she needed another project in addition to the bouncer. After talking with her seniors about possible toys, I pulled up Pinterest. I keep a board of ideas for Gideon's future room. (I say future, because we are currently in a two bed room apartment, and I'm confident that management would NOT be pleased with all the permanent modifications I want for my son.)  Anyways, we decided a light box would benefit Gideon greatly as he loves bright lights.
Yesterday the students presented us with their completed projects.
The bouncer is secured to a trampoline which is weighted down with stacked weights. They put new springs on that are strong enough to account for his weight, but loose enough that they allow him to bounce. They also redesigned the toys on top. They include toys that vibrate and light up. And of course, they personalized it for our little man. 🙂
The light box is so cool! The LED lights in the box can change into 12 different colors. In addition to that, the nifty remote has settings that allow the lights to cycle through colors fast or slow on a timer. They also used a 3D printer to make the letters of his name. Since Gideon is a head banger, they used an indestructible plexi-glass as well as a soft rubber band around the edges.
These students really took the time to meet every need when designing these projects for our son. They truly are smart kids!  We are so incredibly grateful and feel beyond blessed to have met them and Mrs. Wong. I'm so thankful for teachers like her; who teach their students to apply what they have learned to help others.
To the seniors, thank you for all your hard work! And thank you Mrs. Wong and TCA for turning out bright and compassionate minds.
Now, if only we could keep Josiah away….