I turned 31 today.
I had actually forgotten today was my birthday until my husband wished me a happy birthday. I think this is the norm once we get passed the "my life is over now that I'm 30" bit. Seriously, my birthday just don't seem as important now. This is actually the first time I've forgotten. Maybe I'm finally getting over myself. Or maybe old age is settling in and I'm in denial. It's probably both.
Laynie's birthday is tomorrow, so with that (and Thanksgiving) I think my attention has been else where. I didn't do anything for myself today. In fact, two sweet friends of mine from college had 2 free tickets to Disney on Ice and I gladly took Laynie for some mommy-daughter time.
She was excited that she was getting another early birthday present. In fact, before we went, her Aunt Traci gave her another Elsa dress….this one, for everyday wear of course! So with her new dress and shoes (I forgot to mention the shoes), we headed to a 2 hour ice skating, sing along extravaganza. And honestly, I'm not sure which one of us had more fun.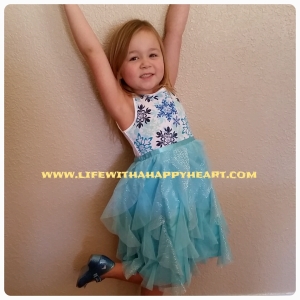 I did complain on the way out as I reluctantly purchased her a $12 snow cone in a fifty cent Elsa cup. Had it not been her birthday this weekend I would have gladly watched her cry all the way to the car…Blame Dave Ramsey, he taught me how to say no.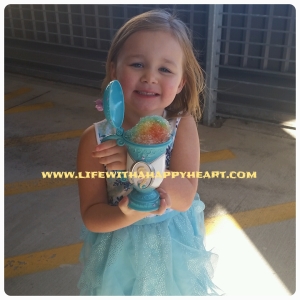 We left immediately to a play date that had already been on the calendar and we left immediately from there to go to church. And of course, I had to stop at the grocery store on the way home because we left our fridge empty as we left for Thanksgiving. I wasn't kidding when I said I didn't do anything for myself today.
But I think that's the point as we get older. We don't wait for one day of the year to do something for ourselves. We take care of those needs as they come. And my needs were more than met this morning right after my daughter woke up. With the sweetest, sleepiest face…and the most awful morning breath, my little Laynie sat in my lap and asked me, "Mommy, is tomorrow my birthday?" I smiled and said "Yes baby, it is." And without another word spoken, a smile came across her face. She opened her mouth and with morning breath and all, she began to sing…"Happy birthday to you. Happy birthday to you. Happy birthday dear Saaaaaaaam. Happy birthday to you!"
We could've wrapped the whole day up with that moment right there. I've waited 31 years for the best birthday, and I got it. Because finally I realized, it's not all about me.