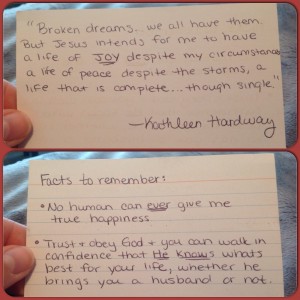 I found some index cards the other day while I was cleaning out my nightstand drawer. I wrote them to myself a little over 5 years ago when I found myself pregnant and single.
I remember sitting at my desk early one morning (I was a teacher at the time) when I put pen to paper. I can still remember the despair, fear and hopelessness I felt the very moment I wrote those words. A good friend had sent me that quote and I thought to myself, I better write that down where I can see it every day. Then on the other side of that card, I jotted down some truths to help me fight off the lies that Satan and this world had embedded in me for the past 25 years.
I'm not sure where you are today. Maybe you've accepted the lies of this world and you need some major truth in your life. God's Word is His love letter to encourage us; make time to read it! No matter what you're facing, you can walk in confidence that the Lord is faithful, even when we are faithless. (2 Timothy 2:13) He knows what's best. The storm you're in, this season of uncertainty…God's already got the ending worked out. (Romans 8:28)
Here's the other card I found… please read it as if it was written for you.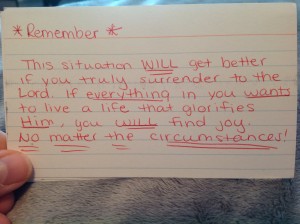 I needed to read that card today just as much as I did 5 years ago. Gideon's circumstances have put me right back in a season of uncertainty…much like the one I was in before. The difference is that I've seen how God has restored my mess and I know that He'll be just as faithful to redeem this. Even when we bury our son in the future… I know and trust that somehow He will bring good from it.
"Meanwhile, the moment we get tired in the waiting, God's Spirit is right alongside helping us along. If we don't know how or what to pray, it doesn't matter. He does our praying in and for us, making prayer out of our wordless sighs, our aching groans. He knows us far better than we know ourselves, knows our pregnant condition, and keeps us present before God. That's why we can be so sure that every detail in our lives of love for God is worked into something good." Romans 8:26-28 The Message
I'm confident He'll do the same for you.
*******************************************************
For women who need help combating the lies of this world, I recommend the book Lies Women Believe by Nancy DeMoss (in addition to the Bible, of course.)