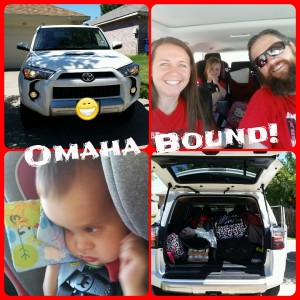 The Jolicoeurs are on the road again!! This time we are Omaha bound! What's in Nebraska, you ask? The 2015 PBD Family & Scientific Conference!!
We are SO excited to meet other families like ours as well as doctors & specialists who are dedicated to researching and caring for our PBD kiddos.
We are coming from Dallas, so its going to be a long trip. We are 5 hours in and have already made 3 stops…one rest stop, a Braums with NO changing table (grrrrr), and of course, Cracker Barrel.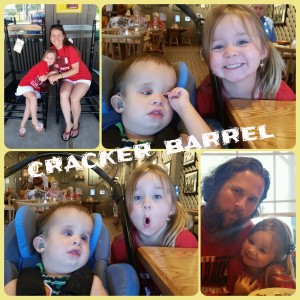 Thankfully we have family in Wichita, KS so we will stay with them tonight and finish the last half tomorrow.
Shout out to the Robinson's for letting us borrow their 4 Runner. (My vehicle is too small for all our bags plus G's chair; and the A/C is broken in Kevin's Vue.  Womp womp.)
We are SO excited for this conference!! Stay tuned for pictures of Gideon with all his new friends!!!!
In the meantime, we are Omaha bound!!
******************************************
On a side note, I spoke with a manager at Braums. She told me they have been asking corporate to install changing stations. She gave me the number below & I spoke to their customer service.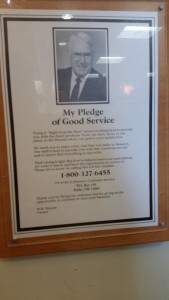 They told me they were in the process of installing them into all their locations nationwide, but she couldn't give me a set date as to when it would be complete. If you don't mind, please take time to call them yourself. If enough of us call, maybe they'll make this a priority!! Nothing worse than having nowhere to change your child.