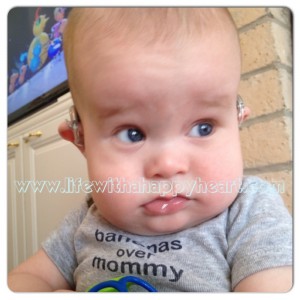 Last night I did something that I decided (early on) that I would never do often… I visited my reality. (Tissue alert.)
I am blessed to be a part of a family support group on Facebook that is strictly for families with children who have PBD (peroxisomal biogenesis disorder). These are some of the most brave and amazing people you will ever meet.  They are also the group of people that you would not trade places with even if they paid you billions of dollars. You see, these people are part of an elite group that have the unfortunate reality of watching their children slowly digress until their inevitable death.
This group has been so helpful with everything we've experienced thus far with Gideon. They've answered questions about his hearing aids and many people have messaged me personally to offer support. However, I have a confession to make.. When I see a post come up where a parent is calling on the angel parents (parents who have laid their children to rest), I steer clear. I refuse to read them. It's TOO much for me right now.
But on this rare occasion, I had been feeling sorry for myself because my son hasn't slept since he was born, so I decided to read the post….and the comments that followed. My gut is still in knots and the tears are still fresh on my face…and shirt…and table. This one brave mother posted that her son has begun to experience discomfort and he's on oxygen for 24 hours because if not, his fingers turn blue; he's also not able to cough because he's losing muscle tone….Basically she was calling on the angel moms to ask how she should be preparing for the end… The comments that followed were heart crushing stories and words of love and support. Are you crying with me for this mom?? Please pray for her. She reached out to the support group because her dreaded reality is now; and it's the reality that we "newbie parents" (newly diagnosed) fear the most.
I know my posts are usually more positive, but right now I need the world to know this is still hard for us. With tears in our eyes, my husband and I were discussing which is worse… watching our son die a slow death or trying to explain the situation to Laynie when that time comes? Now I know what you're all thinking, You're not there yet! Don't borrow sorrow from tomorrow! And praise God we're not living that hell just yet. So why would I even go there? I still feel a need to visit that reality from time to time for two reasons. Reason #1: It keeps me out of denial; Reason #2: It keeps everything in proper perspective.
I feel as though we've been handling our situation very well. I speak for me and my husband when I say we truly feel the peace that surpasses all understanding (Philippians 4:7) and God's grace has been sufficient (2 Corinthians 12:9). But I need to confess it's easy to handle a situation like this when my son is progressing. He doesn't have a feeding tube, he's not blind and (completely) deaf, he's not on oxygen, he's not having seizures, and doesn't require suction. But those are just some of the realities for PBD kids. And unfortunately, there will come a day when my son's progression plateaus. And then he will digress…he may have a few or all of the problems I just listed… And then it will be our turn to call on these brave parents who've gone before us.
You see, I realized last night that one day this group will encourage us as we watch our son slowly die. And after Gideon's gone to be with Jesus, we will walk beside other families as they navigate this unfair, unthinkable, and ugly road.
Please forgive me. I know this is probably the most depressing blog post you've ever read. And if I've made you cry I apologize. I couldn't help myself…I needed to vent. And I have to confess, my recent reality check has left me with a whole new perspective on my lack of sleep. As I sobbed and rocked my baby boy to sleep last night, I couldn't help but think of all those angel moms who would give their right arm for one  more chance to be sleep deprived, rocking their angel.
As I sat down at my computer to write, the Bible Gateway website was up and go figure, the verse of the day was Romans 5:3-4
"Not only so, but we also glory in our sufferings, because we know that suffering produces perseverance; perseverance, character; and character, hope."

To put it plainly, I feel like the Lord was reminding me that our hope is in Christ alone. (I honestly don't know how else we would survive this without Jesus!) And I can't help but believe that someone needs to know about that hope. I like to think that my mighty warrior's story is bringing people back to God. Has his story touched your heart? I hope so. If it has would you share it with someone? Nothing makes the reality of this genetic disorder any easier, but knowing that his life has offered someone hope, brings joy to my heart…to Kevin's heart…and someday, hopefully to Laynie's heart.
Visiting my reality has given me a proper perspective. Casting Crowns, Already There song says it best-
When I'm lost in the mystery
To You my future is a memory
Cause You're already there
You're already there
Standing at the end of my life
Waiting on the other side
And You're already there
You're already there
And because He's already there, I don't have to live in fear. He's waiting for my little man, just like He's waiting for me.
The reality is that you and I woke up this morning by the grace of God. He's given you and me this precious gift of a new day. I don't know about you, but I intend to make the most of every opportunity.
I hope you'll do the same.