Sacrifice is defined as the surrender of something prized or desirable for the sake of something considered as having a higher or more pressing claim. 
Today I sacrificed my dignity, my pride and my back because I consider someone else's joy more pressing than my own.
I hate the grocery store (especially when it's just me and the kids). My little girl on the other hand, at one time, loved it…. before her brother was born. Ever since, she complains about going. That's because when Gideon goes, she can't get her special cart.
My daughter has had to sacrifice some of the normalcy of her childhood because of her brother's disability (and let's face it, my exhaustion). And although a specialty grocery cart may seem small, it's big to her… as it would be to any 4 year old. And for the past 18 months, she hasn't gotten to ride in one…
Until today.
Today, as complicated (and heavy) as it was, I helped my little girl find joy in grocery shopping again. Today, she got to ride in her favorite cart… even though Gideon was with us.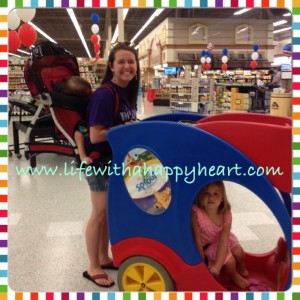 I got lots of confused looks as we strolled through the store. And rightfully so, who goes through that much trouble for five items??
If you're a parent, you get it. When you had kids you learned quickly that life is no longer about you. This life holds more joy when we live out Philippians 2:3- "Do nothing out of selfish ambition or vain conceit. Rather, in humility value others above yourselves.."
And that's easy to do when it's our flesh and blood, so I'm not looking for strokes today regarding our hike through the produce and deli. I just want my daughter to know that I value her enough to make sacrifices so that she can have the simple joys that come with being a kid. Laynie shouldn't (and doesn't) always get what she wants…but in the same respect, she shouldn't always have to sacrifice because of her brother's disability or my laziness.
Today I made a sacrifice to show her how much I value her. And the joy displayed on her sweet face more than justified the soreness I now feel in my low back.
***********************************************************************
I attribute the energy I had to do this to my sweet friend Heather. She came over today and watched her kids and mine so I could take a 2 hour nap. Thanks for your sacrifice friend!! (And she did that only a few hours after our 5 am boot camp this morning!)