I don't know about you, but watching the news depresses me. In fact, as soon as the weather report is done, I have to turn it off. Most of what they report has to do with someone's selfishness, greed, or evil. I'm often left thinking, "What is our world coming too?" It bugs me that news always ends with a 2 minute "feel good" story. I wish they would start and finish the news with the feel good stories….in fact, I wish they would show nothing but those kinds of stories. After all, it's those stories that restore our faith in humanity!
I often wonder what might happen to our world if we were constantly shown the GOOD that's being done in our society rather than the bad. I personally believe it would motivate more hearts to pursue acts of kindness. Instead of believing our world is mostly bad, perhaps we would believe the contrary and in doing so, it would spur a chain reaction of love.
My husband and I have seen a continuous out pour of love since our son was diagnosed with PBD. I wish I could continuously broadcast it across the news stations. Not because I want more people to do for us, but because I truly believe if more people saw these random acts of kindness on their TVs then they would be motivated to DO something for someone else!
I think people need to SEE the good that's happening around them and it's hard too see that when we live in a world that constantly flashes the bad across our television screens.
Unfortunately I have no control of the news. But if I did, it would include the weather of course and then stories like these…
"A local DFW resident, Kim Bailey, heard about a friend whose son, Gideon, has a terminal genetic disorder. Moved with compassion for a friend she hasn't seen in quite sometime, Kim contacted a charity she heard about called Tiny Superheroes. Their mission? To empower Extraordinary kids who exemplify strength and determination by overcoming illness and disability. Kim sponsored a cape for Baby Gideon and he received it just in time for Christmas!"
If you'd like to know more about this charity or how you can sponsor a cape for a child, visit their website at http://www.tinysuperheroes.com
Here's another story I'd show on the news…
"A few months ago we aired a story about a local teacher, Christy Elms, who organized a fundraiser and united a community to raise money for a fellow teacher's son. Students brought money in order to see a few teachers kiss a pig. Proceeds went to help their PE teacher's son, Gideon, who was born with a rare genetic disorder. A few days before Christmas, she surprised the family again when she had a 4 foot "Fezzy" Bear shipped to their home for Gideon and his sister to enjoy! 20% of Fezzy's cost goes to the Shriner's Hospitals for Children to help transform the lives of children fighting illness and disability. Gideon and Laynie are  in love with their "Fezzy" bear!!"
To give the gift of Fezzy and help out Shriner's Children's Hospital,  Click Here.
Here's another story…
"Donna Wagner and Alecia Self work hard every day to provide their visually impaired students and families with the resources they need. But a few days before Christmas, they kicked it into over drive and made sure that one of their students, Gideon, received the best Christmas gift ever! He received his official Little Room the Friday before Christmas and it was decked out with all things special and significant to his needs. Gideon has a rare genetic disorder that impairs his vision and hearing.  On top of this, these two special ladies were able to take Gideon's home made little room and provide it to another family whose child needed it. Gideon loves those ladies and his new Little Room!"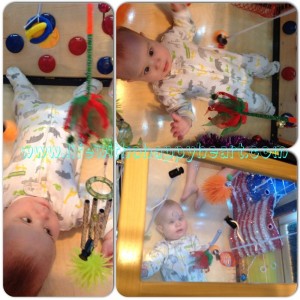 And here's another….
"A local boy scout troop from Garland, Troop 100, showed some special love this Christmas to a family whose son has a rare genetic disorder. Scouts raised enough money to make sure the Jolicoeur family were able to provide gifts for their kids. On top of that, the Boy Scouts also got two gifts for Laynie and Gideon and a gift card for mom and dad as well. Needless to say, their love and compassion made a huge difference for the Jolicoeur's this Christmas!"
Had enough of my "news stories?" Of course you haven't!!…Not with heart warming stories like these!!
Okay, so I realize that all may have sounded a bit cheesy, and to be honest, I could write a lot more about all the good we've experienced this Christmas season. But the point that I really want to make is that people every where did amazing things for one another this Christmas. (I'm sure we all saw stories like the West Jet Christmas surprise!) Why can't the news show those kinds of stories all year long? Why can't we stop and celebrate all the good that's going on in the world rather than despair over all the bad?
I honestly believe if we SEE more good being done, it will spur us on to "BE the good" to those around us. People are not only in need during Christmas. Chances are you know someone who is struggling financially, emotionally, spiritually….and chances are you can BE the good that comes their way this year.
My friend Kim said her husband was so touched by my tearful phone call thanking them for Gideon's cape, that they have decided to sponsor a child through Tiny Superheroes once a month. That means 12 kids in 2014 will be empowered to face their disability or illness with a handmade, personalized cape. What a difference Kim and her husband are going to make. I only wish the news would be there to show every kid each month receive his or her cape. If they were, how many more people would be moved to action by seeing that on their television screen? How many more people would BE the good because they SEE the good?
Thanks to all who have blessed our family this year. I wish I had time to write about every instance, every card, every gift or time given to us. Please know that you've inspired Kevin and I to be the good for someone else. We want to love others, the way others have loved us.
God bless!!