Don't you love it when someone gives you a statistic? They're especially fun when you're about to do something related to that statistic. For example, you go to take a bite of your burger and your friend with the salad says, "Did you know that one out of four Americans are obese?" or "one out of four people will develop heart disease?" Or take for example when I was about to go to college…my mom and dad said, "You have to be careful. One out of four college girls are sexually assaulted."
Have you ever noticed how the majority of statistics relate to issues that are negative? I can't remember the last time I heard the positive side of statistics… like someone saying "three out of four people will not die from cancer" or "three out of four people are at a healthy weight." I guess no matter how you look at it, statistics are still important because they're informative.
Statistics have always been fun for me…maybe that's why I loved teaching middle school math. I'm just as bad as everyone else I guess. I used to make sure that my math lessons were always relevant for the kids I taught. I made sure to use examples like "one out of four kids are bullied" and "one out of four people have an STD." Okay, that last one seems harsh, but it's true and I always felt like someone should be giving that information to our tweens today, because apparently no one else is…
So back to the reason for my statistical rambling… my daughter turned 4 this past weekend. She had a "Sofia the First" birthday party which worked out well for us, because she got some extra use out of her Halloween costume.  Cute right?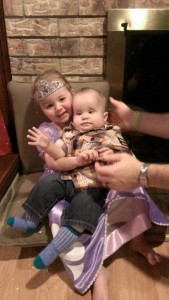 At some point during the party someone asked me about Gideon's upcoming birthday. He'll be one in January…crazy to think about. But then that person also asked  me if we were going to have any more kids….
And that's when the statistic hit. One out of four.
Because my husband and I are carriers of this rare genetic disorder, there is a one out of four chance that we will have another child with peroxisomal biogenesis disorder, or PBD.  So of course my mind has been chewing on this like it did back in August. I mean when you stop and think about those numbers…1 out of 4…sound so daunting. The fear that comes with that statistic is almost to much to bear when I think about my sweet Gideon and having another child suffer with this. And that's when I began to think about the other side of that statistic…
Three out of four.
You see statistics can be looked at two ways. The way that invokes fear or the way promises hope. I heard a sermon once where the pastor said there are 365 "fear not"s in the Bible. That's one "fear not" for each day of the year. There are several verses on this topic that I love.  Isaiah 41:10 "Do not fear, for I am with you. Do not be dismayed, for I am your God. I will strengthen you and help you, I will uphold you with my righteous right hand."  Also 2 Timothy 1:7 "For God did not give us a spirit of fear, but of power and love and self control." 
It's those verses that make me focus on the statistic 3 out 4..because three out of four is not accompanied by fear. Three out of four offers hope… Hope that people around you will not develop heart disease… hope that colleges girls will not be sexually assaulted… Hope that if we have another child, he or she won't be affected by this horrible disorder.
I can't say whether or not Kevin and I will have anymore kids. But you know what? If we do, there's a good (75%) chance our child will be unaffected. However, if we were to fall into the 1 in 4 category again…I'll continue to cling to God's Word and verses like Isaiah 41:10. That verse gives a 4 out of 4 kind of statistic, as does the rest of His Book. God always promises to strengthen, to help & to hold us…100% of the time. No matter what life brings.
We couldn't ask for better odds than that.