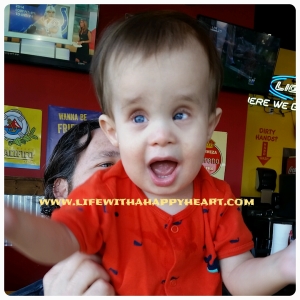 It's funny how a few  small events can ruin your outlook on something. When friends messaged me yesterday asking how our Thanksgiving went, my initial response was "It was rough." But when I look back, examining all aspects, was it really… rough?
Not at all! In fact, we had a great thanksgiving and there were so many things to be thankful for! There was lots of laughter among friends and family. There was a ton of food (my mother-in-law spoils us)! My only genuine complaint was that there were not enough rolls because I didn't get a fourth one!
So why was my initial outlook so negative? Why was I finding it rough to give thanks??
Here's what happened. The first night we stayed with my in-laws, Gideon was up twice during the night. The second time he was up, it took him an hour to go back to sleep. And of course, he was up at 5 am ready for solids (all of which he puked up just moments after finishing). So the second night we decided to get a hotel. Unfortunately, Gideon didn't sleep any better, so again we were up for a good part of the night.
Now here's a little not-so-fun fact about me: I. Need. Sleeeeep!!!  I mean lots of sleep. If I don't get 8 hours, I'm pretty much the most horrible person you've ever met. (So if we cross paths in public, and I'm acting like a witch with a capital B, you can assume I didn't get much sleep the night before.) But just that one aspect almost ruined my memories of this year's Thanksgiving holiday. How sad is that?!?
I once heard that for every complaint you have, find three things you are thankful for.. So here's my thankful list to combat my two sleepless nights over thanksgiving:
I took a 3 hour nap on Thanksgiving Day
I didn't have to cook for two days (many should be thankful for that!)
I didn't have to hold Gideon as much because friends & family happily took turns
I ate more fudge than I care to publicly admit
I actually had adult conversations that lasted longer than 2 minutes
When G woke up, my husband got up to help me care for him
I slept in a bed that I didn't have to make (thank you Country Suites Inn)
I  used as much hot water as my heart desired
I took a 2 mile walk
I didn't have to do laundry when I got home because my SIL did ours before we left
When you reflect back on your Thanksgiving Day, I hope you can also say that it was great. If you can't, search your heart for the reason why. If you're like me, your reasons are probably just selfish. But don't worry, once you list out 3 positives for each negative experience, chances are you'll see the joy that was there all along. And hopefully you'll feel thankful.
Just to be an over-achiever, I've listed some other reasons I'm thankful.
I serve a God who loves me so much that He sent his Son Jesus to die for me
I live in the richest nation that affords me many freedoms & opportunities
My husband is an amazing man who loves the Lord & leads our family spiritually
My daughter Laynie is joyful & has a heart that is bigger than Texas
My son Gideon is extremely healthy (given his terminal diagnosis)
Gideon doesn't currently have a feeding tube or seizures or medications
I have the most amazing & supportive parents, sister, and in-laws….EVER!
My husband has a job that supports me staying home with our children
Our friends would move mountains to be there for us
Our church family…well, there just are no words for how wonderful they are
We have a roof over our heads & food in our pantry
We have enough money to pay our bills & our cars are paid for
There's no lack of opportunity to serve and love the people God places in our lives
God's given me breath in my lungs to praise Him for another day
For all these and more, I'm thankful.
Rejoice in the Lord always; again I will say, rejoice. Philippians 4:4