Nine years ago today I shared this photo. If you know our story, then you know how much Kevin and I HATED each other here. Yet every time I see this photo I smile.
I smile because it reminds me why I married the man I hated.
Kevin and I were not together when Laynie was born. In fact, we broke up not long after I found out I was pregnant. Kevin chose to date someone else for the remainder of my pregnancy; and I was beyond bitter about it. When I knew that Laynie was about to arrive, I did not notify him. After Laynie was born I had my sister send him a text that said, "Laynie is here and you can come to the hospital… with family only."
Once he was there, I asked him to take this picture for one reason only. I felt like Laynie deserved one photo of her birth with both parents. We had all been busy taking our individual photos; trying to be cordial even though things were totally awkward. I swallowed my pride and asked him to "do this one for Laynie." I really thought this would be our little girl's ONLY family photo…. But God….rich in mercy had other plans.
If you watch the video below, you'll see why I married the man I hated.
Forgiveness IS possible.
God's grace IS sufficient.
Since this video, we've added another biological child, Nya, to our family.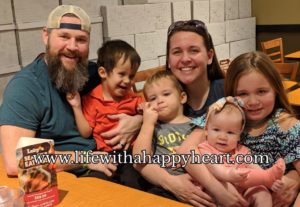 If you had told me 9 years ago, that Kevin and I would eventually reconcile, I would have laughed in your face. Our one family photo, eventually turned into more than I can count.
I never could have imagined that God would redeem things this way; but that is the beautiful thing about God. We see impossible circumstances as the end. But God sees them as the beginning of the new story He is writing.
"Impossible is where God starts" -Christine Caine