On October 5th, we will Pause for PBD and I would like for you to join us.
On this day, the Global Foundation for Peroxisomal Disorders will be celebrating it's 5th birthday, and in honor of this foundation that helps families affected by PBD, I'm asking for some favors from my readers. But before I do, let me tell you how this organization has blessed my life.
When Gideon was diagnosed, I didn't know anyone who had a child with PBD. It's pretty rare. Shortly after, I began blogging about my son and within a few days, my first post was shared with Shannon Butalla…who lives in Omaha Nebraska. When I told her what the doctors said (Gideon wasn't going to live past one year old) she said, "I don't want to tell you that your doctors are wrong, but they're wrong."  After 30 minutes on the phone with her, I was relieved to finally know someone who actually knew what the heck they were talking about in regards to PBD. Shannon has lived and breathed it for the past 13 years with her son, Sam.
Shannon and a few others are responsible for the inception of this organization that provides hope and support to families like ours. They provide a means for equipment exchange and through donations and fundraising, the GFPD was able to help cover the cost for us so we could attended their Family & Scientific Conference in Omaha.
Today, we are now connected with an enormous family of some of the strongest people I know…people who battle this horrible disease every day as it slowly pulls our children away from us.
So it's my hope that you'll be able to help the GFPD celebrate its 5th birthday in one or more of the following ways.
Click HERE to purchase a Pause for PBD t-shirt (their goal is 300 shirts..but I think we do better than that!!)
Share this LINK on your social media sites to help raise awareness & funds
Use the hashtag #PauseforPBD on social media as well a photo of Gideon (or any other PBD babies you may know…You have my permission to share the one below.)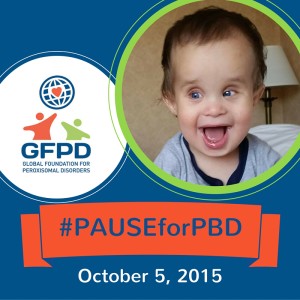 I just want to say thank you to all my readers. Your comments and messages of support have meant more to me than I could every adequately express.
Thank you for continuing to follow our journey and don't forget to Pause for PBD on October 5th!!
To learn more about PBD, click The GFPD.