Well, I'm all in. I've chugged the JAF kool-aid and I will never be the same. I cannot even begin to describe this place. It's truly life changing.
Family Retreat day 3 rocked. Just when I thought it couldn't get any better, it did.
The activities just keep getting better, for us AND the kids. Today Kevin & I rode horses. I haven't been on a horse since 5th grade camp at Sky Ranch. I made the mistake of wearing shorts but thankfully it was overcast with a breeze.. so the chaffing was minimal. Kevin was less than thrilled about this one, but nevertheless he came along for the ride.
I forgot to get his photo (plus my phone was in his pocket). But if you can imagine duck dynasty, in cargo shorts, riding a horse named sugar, you'll get a good metal picture of what he looked like. The trail had the most beautiful views.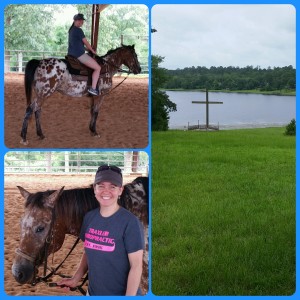 Laynie's group did a tote bag craft & went to the lake after Bible time. She did the blob AND the big slide. I will have access to their group photos after camp wraps up. Gideon's group colored t-shirts and after their Bible time, they got to pet different animals!! His STM provided me some photos..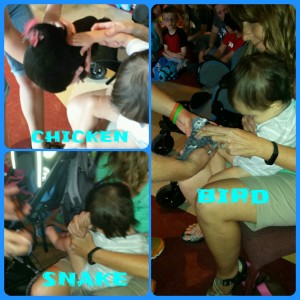 When we came back together for family time at 3 pm, we took this kids to ride horses. Both kids loved it and they rode multiple times.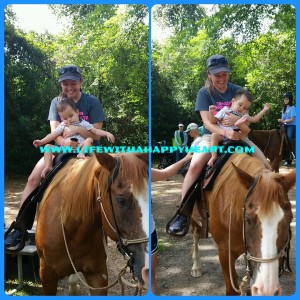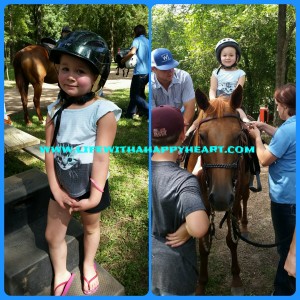 Later that evening (after we all showered) the parents attended a split dinner with Joni & Ken.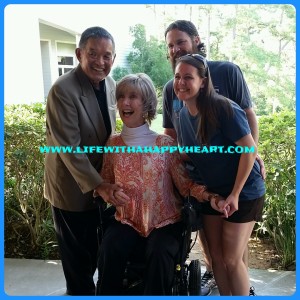 A split dinner means the adults enjoy a fancy 3 course meal by candle light…and the kids eat pizza somewhere else. Upon completion of our meal they pulled back the curtains to reveal the beautiful view of our children having a shaving cream fight. Even the kids in the wheelchairs were covered with white foam. They had more fun…and it was a blessing to behold. (We thought it best that Gideon sit this one out.)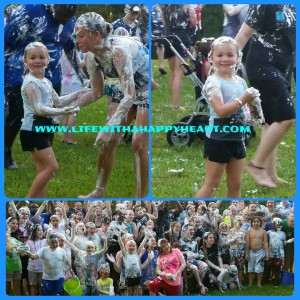 Afterwards, Kevin put the kids to bed while I attended spa night for the moms. I got a neck rub and a foot message by the sweetest ladies. They were even painting nails & toes! (Thanks Stacy for my nail art!!)
Later I ended up in a recliner sharing a heart-to-heart with my sweet new friend Camilla- a fellow mom who knows all to well the struggles of disability. Turns out they live in Garland. So many families here are from the DFW area.
We feel so blessed that God placed us at this camp, this week. It's been so amazing.