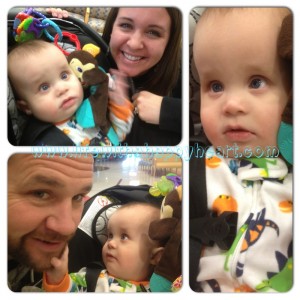 So as some of you know, we recently went for a swallow study to determine whether or not Gideon was aspirating (inhaling fluids…milk/water…into his lungs) while eating. Many children with Gideon's disorder require their liquids thickened because of this problem. Even though I was confident that he wasn't aspirating, the information that this test would provide was necessary if we were to receive nutritional & feeding support through the Early Childhood Intervention program.
So we went to Medical City Dallas and found out, unfortunately, he is aspirating.
Two things about  this study. 1) It went SO much better than the GI test  and 2) Gideon screamed the whole time as he was being forced fed.
I tell you this because I think it's important to note that Gideon only aspirated a small amount twice, within that 15 minute feeding session. I think that's pretty darn good considering he was screaming!! Also, I think it's worth mentioning that my son has not been in and out of the hospital with respiratory issues like a lot of these babies- which suggests to me that it's not happening that frequently here at home. He's a year old, never had any liquids thickened and (knock on wood) he's never had lung problems!!
The concern about him eating arose in December, when Gideon officially started on a supplement called Betaine. This Betaine study is why we went to Omaha back in September. After being on the Betaine for about a week, we noticed that he stopped eating solids altogether and his intake of formula dropped by 2 ounces. We decreased his dose & stuck with it for a month because GI upset was a known side effect. When we stopped the Betaine, his appetite did not increase after a couple of weeks, so I agreed to the swallow study. This now allows us to receive help from ECI where his diet is concerned.
So his evaluation with the dietitian is this Tuesday and I'm anxious about her visit. Gideon is not taking the thickening of his liquids well. And we have these random shiny days where he anxiously eats solids…and then it's back to formula all day for the next few days. The ups and downs are way high and way low, and frankly, I'm getting tired…. and a bit emotional. Especially where this thickening business is concerned. You need cross cut bottle nipples for that. Did you know finding cross cut bottle nipples in the stores here is like looking for Miley Cyrus at a church camp? I've been to four stores, one of which was Babies R Us, and NONE of them carried cross cut nipples!!! (That was a bad day and a whole other blog for that matter.)
So would you mind praying, yet again, for our son. I desperately want him to begin eating solid foods consistently again. And please also forgive my frustration on the matter. I knew having a child with special needs would be hard, but it's all these small battles that seem to be weighing me down.
Most days I feel like I'm treading water so hard just to keep my nose above the surface.
Thanks for your prayers.