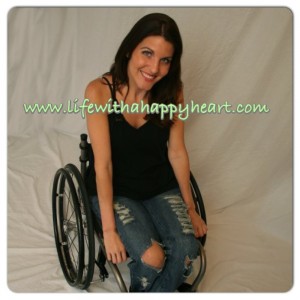 When I was 12 years old my sister Traci was paralyzed in a car wreck. Talk about having your world turned upside down. As a parent now, I can understand the fears & hopelessness that my parents must have felt when the doctor said, "She'll never walk again." There's something that makes us physically ill when we can't fix what's wrong with our children.
All I remember from 1997 is going to visit my sister; whether it was for the 6 weeks she spent in ICU or the 4 months she was at Baylor Rehab- we were always there with her and I was glad. Even at the age of 12, I knew she was lucky. Most people we met in ICU lost their loved ones. On Easter weekend the doctors told us Traci wouldn't make it through the night, but she did- and we praised God! When she went to Rehab, we met a family who had a loved one who couldn't even move his arms. He was learning how to use a chair powered by air from his mouth. My sister could do more than he could.
It could always be worse. I learned that at a young age; and not because everyone told me… although many people did. I remember distinctly coming to that conclusion all on my own. When you cry with other families who've lost loved ones…when you see the despair of a person who can no longer do anything for himself… it's easy to draw that conclusion.
Saying it is one thing. Learning to believe it is another. We all feel sorry for ourselves from time to time. And there's nothing wrong with that! The problem occurs, when we stay in that state of mind. If I've learned anything from my first week of blogging, it's that the situation can always be worse.
I'm beyond grateful for the people I've encountered; who have so lovingly shared their stories with me regarding their situations. Without breaking anyone's confidence, let me share a few reasons I'm grateful..
My son is still alive- So many families have laid their sweet, God given children to rest. My heart breaks for you. My prayers go out to you. And for every mother, who so desperately wishes to conceive, but for whatever reason hasn't, my heart and prayers are with you as well. "He heals the brokenhearted, binding up their wounds." Psalm 147:3
My son is able to swallow and breathe on his own- Many babies with peroxisomal genetic disorders cannot do those things. If that's your baby, I'm praying you feel the presence of God because I don't how I would handle that. God, give those moms & dads strength and endurance, they are SO tired!! "God is our refuge and strength, always ready to help in times of trouble." Psalm 46:1
My husband, family & friends are here to help- If you are going through something like this on your own, I am weeping for you! Please, search the web and find an organization to support you!! For me, it's been the Global Foundation of Peroxisomal Disorders (GFPD).  http://www.thegfpd.org/  I'm not sure what journey you're on, but there is support out there for you! FIND it! If you can't, ask me and I'll find it for you! You were NOT meant to walk in this alone! "When you go through deep waters and great trouble, I will be with you." Isaiah 43:2
I could go on and on. I'm thankful for so many things. I know it could always be worse. I believe God used my sister's accident 16 years ago, so I could be prepared for this season of my life. What has God been preparing you for? Do you know your life has a purpose? The pain you've experienced was not caused by God. We live in a fallen world with free will. And while God may have allowed some horrible things to come into your life, He can use those things to bring about good!! Will you let Him? Romans 8:28 is what we call our "family verse."
"And we know that for those who love God all things work together for good, for those who are called according to his purpose."
Ultimately, Gideon's prognosis sucks.  I wouldn't wish a terminal diagnosis on my worst enemy. All that said, I still trust God will work it for good- and I can see that He already is!!
God wants someone to hear our son's story. Maybe that's you. In the book of Judges, there's a man named Gideon. God used him to bring his people back to heart of God. Is God using my little warrior's situation to do the same? I think so. We are trusting God with this because we know it will get worse. And when it does, we will remember 1 Peter 1:7 – These trials have come so that the proven genuineness of your faith—of greater worth than gold, which perishes even though refined by fire—may result in praise, glory and honor when Jesus Christ is revealed.
Lord, may these trials prove our faith genuine. Amen.