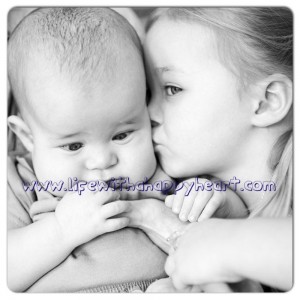 Today was long…for everyone. First day of school always is for me. Sweet children with their backpacks full of supplies headed for school with hopes of seeing old friends and making new ones. Teachers rooms were as clean and organized as they'll ever be, and parents were breathing a sigh of relief as the chaos of summer ends and everyone is back into some kind of routine. As a former middle school teacher, I miss the first day of school. Don't get me wrong, I'm beyond blessed to stay home with my two babies! But for me, today was long for a completely new and scary reason.
My son Gideon is 7 months old. As of August 1, 2013 we found out that he has a peroxisomal genetic disorder. Every cell in the body has peroxisomes that oxidize long chain fatty acids (don't ask me to describe this better, I taught math, not science.) Basically the body cannot function with disabled peroxisomes, which is bad news for my little man.
The day started out with a hearing test. His disorder is associated with hearing loss, vision loss, and eventually the complete shut down of the brain and central nervous system. So today he had his hearing tested to see how well he hears now. After a 3 hour test (which included fasting and sedation), we discovered that he has moderate to severe loss. But the good news was that with hearing aides, he'd be able to hear completely fine…for now.
So as I was driving home, feeling hopeful about our little man's situation, I received a call from the geneticist. His blood work came back from Johns Hopkins and it was not the kind of news we were hoping for. She told me that there are 2 genetic mutations in his DNA and then she said we would be facing the more severe type of peroxisomal genetic disorder…Zellwegers. Sadly most of these babies don't live past 12 to 18 months. (Insert sound of my heart shattering).
So how do you end a long day like that? When everyone else is posting first day school triumphs and happy stories of recess, lunch, and friends… how can I choose to be happy when it feels like my world is caving in? To answer in one word- Jesus. A dear friend of mine just gave me a book (and finished it in 1 day) called "Holding Onto Hope" by Nancy Guthrie. She buried 2 of her 3 children due to Zellwegers Syndrome. On her blog she said this about her daughter Hope-
"So how were praying for Hope? I wish I could tell you that I was a great woman of prayer in those difficult days. The truth is, I wasn't. I was really grateful that so many people were praying for us, no matter what they were praying, because I didn't have many words, mostly just groans and tears. I was grateful to know that the Holy Spirit was interceding for us with "groans too deep for words" (Romans 8:36). When I was able to sputter out a prayer, it was shaped most profoundly by something a friend said to me on the phone a couple of days after Hope was born. She said that I could be confident that God would accomplish the purpose that God had for Hope's life in the number of days that He gave to her. So in my prayers I began to welcome him to accomplish that purpose. I prayed that my own sin and selfishness and small agendas would not hinder his purpose. I prayed that his purpose for Hope's life would be enough for me, even a joy to me."
Does that last line get to you like it did me? Have you ever considered praying that something like this would be a JOY in some way? As hard as it is to believe, I completely understand why she would be praying to that end. When we first heard "peroxisomal genetic disorder" on August 1st my husband and I had an amazing heart to heart moment. With tears still streaming down our faces, we both agreed that any children we have don't belong to us anyways. They're on loan. They are a gift from God and He loves them so much more than we do. Knowing that, we can trust He will work it out for good. (Romans 8:28) For whatever reason, God allowed Gideon (whose name fittingly means Mighty Warrior) to be born this way. Any plans I have for him will fall significantly short compared to what God will do with his life; no matter how long it is.
I've always heard happiness is a choice. It's so true. As I write about my long day, I'm very aware that my "feelings" about this can send me into a pit of despair, anger and self-pity. Like Job, I could be asking God a thousand "why?" questions. But I wasn't there when He laid the earth's foundations (Job 38:4). Nor did I hear him tell the oceans they "could only come so far" (Job 38:8) No, I'm going to choose differently. I'm going to remember that "my hope is in You, Lord" (Psalm 146:5) I'm going to pray for the "peace that surpasses all understanding" (Philippians 4:7). And I'm going to remember that "His grace is sufficient" (2 Corinthians 12:9).
So would you join me in praying for my son? Not that Gideon would be healed (although I'm confident that the God who created the universe can do that!), but that God's will be done…that he would use Gideon's life in a MIGHTY way to impact the world.  My husband recently said, "If Gideon's life brings one person to Christ, saves one marriage, or gives one person a renewed hope…then this is all worth it." (How lucky of a wife am I?)
Choosing to be happy, even after my long day.   🙂