Yesterday I got a phone call from Gideon's endocrinologist office because they had gotten the results from Gideon's blood work.   Here is what she told me-
Gideon's ACTH levels were "high-ish"
Gideon's cortisol levels were "mid-normal."
Gideon is in what's called "compensation phase."
Basically this means that Gideon does not currently need daily medication but he will need what's called a "stress dose" of cortef when he is extremely ill.
Can I just be honest? I'm still learning what all this means. I have a very basic knowledge of science in general and to make matters worse, I don't research this stuff until absolutely necessary (which may or may not be a good idea).The parents on the PBD support page talk about these levels regarding their children so I know adrenal insufficiency is an issue for our PBD kiddos….but I don't want to learn all about it until I absolutely have to. I saved this photo yesterday to my phone just to help me grasp some of these terms visually.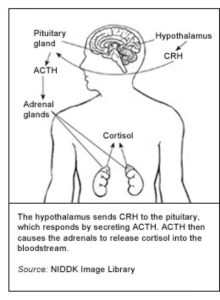 The statement "ignorance is bliss" is all too true when it comes to the progression of this disease regarding my son. I know the future looks bleak and I'm not ignorant to the fact that harder times are coming…. but I just want to enjoy today as best as I can. Otherwise I might waste every day worrying about the suffering my son might face tomorrow. And that's not a healthy place for me.
So if you have lots of questions about what all this means, rest assure, I have more. I'm slowly taking in information and what the next 6 months to a year look like as the disorder progresses.
For now you'll have to take your questions to Google.  😉